In September, IMT-BS & TSP students are given the opportunity to learn French. With five hours of instruction every day, students quickly gain confidence in speaking and writing basic French. Advanced students have the possibility to improve their level as well, with objectives and activities adapted to their skills. French classes are taught by experienced French professors.
All classes aim to help students understand and speak as much French as possible both in and outside the classroom ! The stress is therefore put on oral activities more than written work.
Students are divided into small groups according to their level. A final test will review all the points learnt in class. The grade obtained and the general comments made by the teachers will be used to create the level groups for the 1st semester.
The syllabi below are given for reference only as the class content may vary according to the level of the students and the group composition.
Weekly field trips to Evry and Paris and cultural activities (cooking lessons, museum visits, etc…) are organised.

French for beginners
French for lower intermediate level
French for intermediate level
French for beginners
Objectives: Familiarize students with the French language and culture. Give them the necessary structures and vocabulary to get by as a tourist in a French-speaking country.
Emphasis will be placed on developing speaking and listening skills.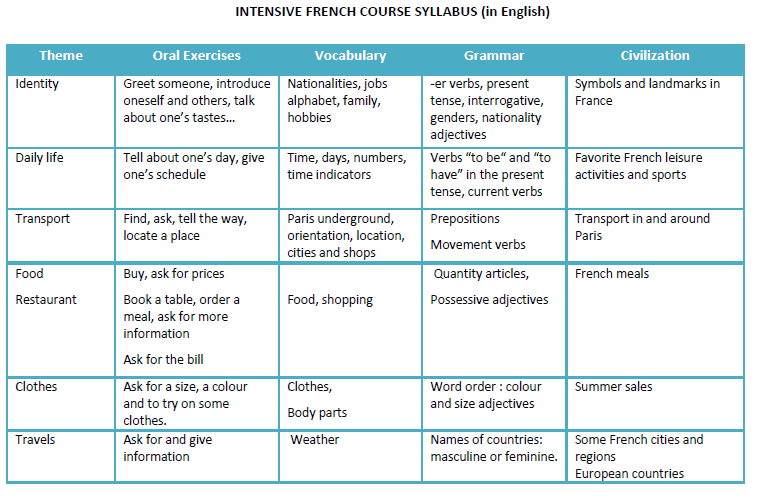 French for lower intermediate level
French for intermediate level